Bee-friendly balconies
Here's how to promote species diversity on your balcony!
Any balcony can easily be transformed into a haven for nature! By choosing the right plants, the tiniest of spaces will become a magnet for beneficial insects and a green oasis for outdoor relaxation. Balconies are an ideal location to grow beautiful flowers and mouth-watering herbs, even if you're new to gardening.
Planters, pots, baskets and window boxes must have drainage holes at the bottom to allow excess water to escape. Planters with built-in reservoirs are handy for keeping compost moist when you are on holiday.
Peat-free compost
Bee-friendly plants (look out for the Royal Horticultural Society's 'Plants for Pollinators' logo when shopping). You can grow 4-5 plants in an 80cm planter
Watering can
Bucket of water
Fertiliser: Organic Multipurpose Plant Food, or if you prefer liquid fertiliser: Organic Multipurpose Plant Feed,
| Length of balcony planter | Compost requirement |
| --- | --- |
| 40 cm | approx. 8 litres |
| 60 cm | approx. 10 litres |
| 80 cm | approx. 12 litres |
| 100 cm | approx. 16 litres |
Light-coloured containers don't warm up as quickly as dark ones and require less watering.
Step 1: Select the plants
Herbs are ideal for balconies and many are perennial, producing tasty ingredients for your dishes over a long season. The following species are suitable: winter savory, common sage, thyme species, wild marjoram, chives, lavender, borage and nasturtiums.
Compact perennial flowers can be practical to grow on balconies, too, and some will last for years. Consider Cheddar pinks, clustered bellflower, Scottish bluebells, rock-rose, golden chamomile, purple coneflower, Michaelmas daisies (aster), stonecrop, ivy, Virginia creeper, everlasting sweet peas, catmint, dame's rocket, Kenilworth ivy, calliopsis, Apache beggarticks (Bidens ferulifolia), bugle (Ajuga reptans) and Carthusian pinks.
Bulbous plants and tubers such as tulips, grape hyacinths, ornamental leeks and single-flowered dahlias are also beneficial for pollinators.
And finally, don't forget annuals that can be grown from seed or bought as young plug plants: zinnia, lobelia, sweet peas, snapdragons, marigolds and sweet William are good examples.
In the run-up to planting, liquid feed young plants with Super Strength Seaweed Extract, once a week when watering, as it will strengthen plants and stimulate fresh growth. Before planting, water plants well so that the compost is moist.
Step 3: Prepare the container
Fill the container
Fill a third of the container with peat-free compost Carefully take the plants out of their pots and place them in the container.
Plant low-growing and trailing varieties at the edges and taller varieties in the middle. After planting, the upper edge of your plant's root ball should be about 2cm below the rim of the balcony planter so that water soaks into the compost and doesn't run off.
After planting, the upper edge of the plant's root ball should be about 2cm below the rim of the planter, so that water thoroughly soaks into the compost without running over the edges. After all plants are in position, fill any gaps with compost and firm it down lightly.
Water carefully but thoroughly. When water drips from drainage holes in the bottom of the container, this indicates that the compost is sufficiently moist.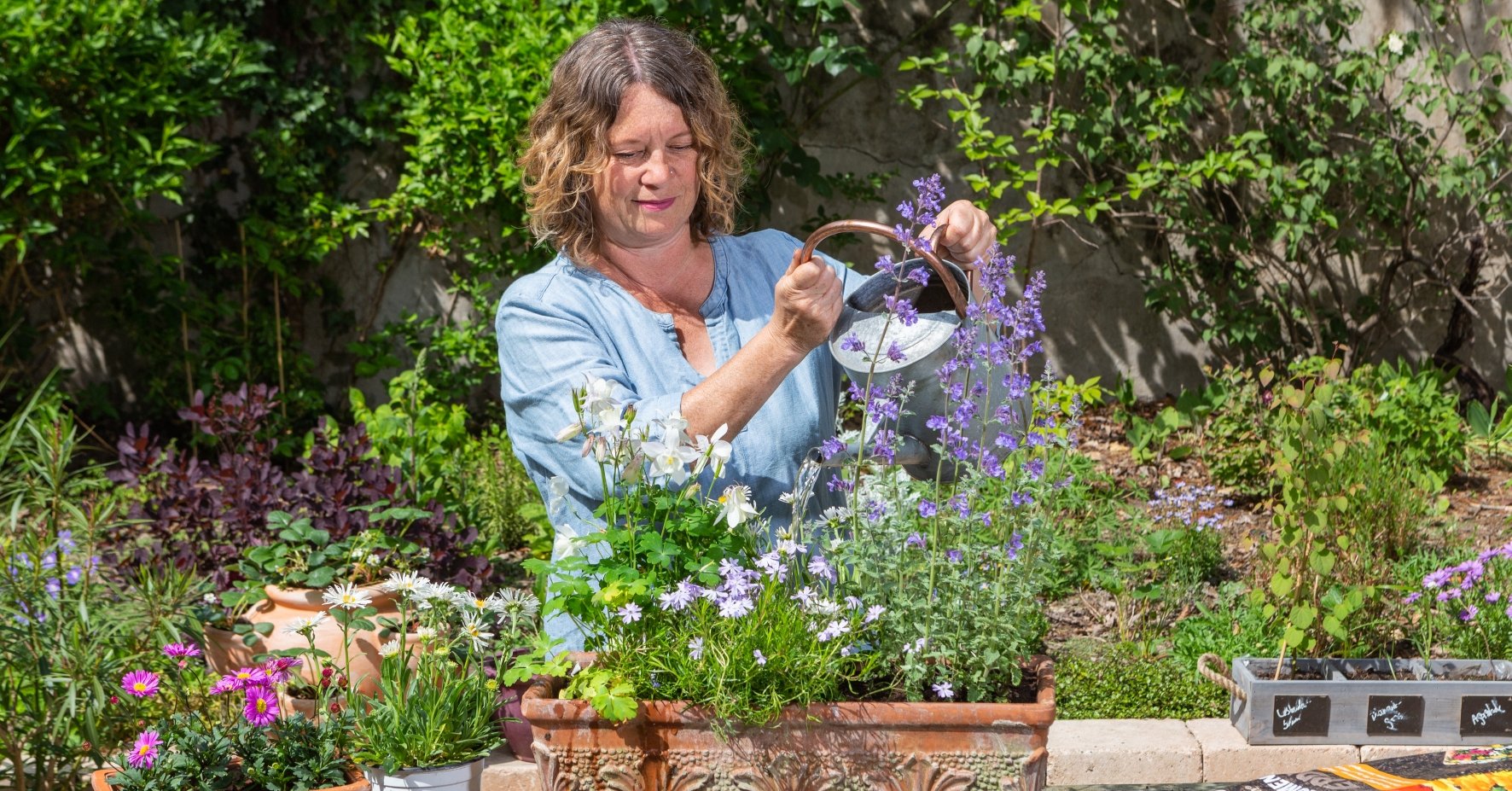 Step 5: Install an insect hotel
Quality peat-free compost should contain sufficient fertiliser for the first month, so you'll only have to water. After around four weeks, depending on plant varieties grown, you may need to boost soil nutrient levels by liquid feeding fortnightly.
Dead-head spent flowers by snipping fading blooms from plants regularly. This helps to keep a fresh supply of new flowers coming.
Remember that balcony flowers will need watering regularly during the warmer months, even when you're on holiday!
Automatic watering systems for balconies are also available.
Plant pests and diseases, if they are spotted, can be identified with the help of our plant doctor. Here, you will also find handy tips for pest prevention and control.